Taking a Break to Travel After Redundancy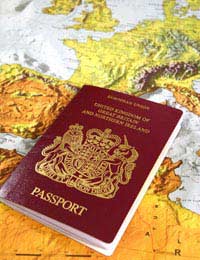 Many of us harbour unfulfilled fantasies of going on a great round-the-world tour at some point in our lives. Somehow those two weeks per year on the Costa Brava never seem to be enough. We yearn to go somewhere a bit more exotic and "find ourselves" deep in a forest somewhere while dodging deadly snakes or meditating in a Buddhist temple.
Often, these fantasies remain unfulfilled. We don't have the time. We don't have the money. We can't get away from the kids. There are innumerable reasons why the dream remains just that.
The Case for Taking an Extended Holiday
Redundancy can seem like the ideal time to put your wanderlust fantasies into motion. Chances are you won't get a new job right away and you may pocket a tidy sum in redundancy compensation from your former employer.
You may also not have been entirely satisfied with your former career track and may wish for some time to re-evaluate your life, and consider other options, before plunging back into a similar job.
The redundancy process may also have taken a toll on you emotionally. You may feel that you're entitled to a little cheering up.
The Case Against Taking an Extended Holiday
The case for a round-the-world trip following redundancy may seem compelling, and you can probably think of a few more reasons as you attempt to persuade yourself that it's a great idea. But it's also possible to construct a powerful case against going on a round-the-world trip at that time.
If you don't have a new job lined up, worries about your future may prey on your mind while you're away, preventing you from really enjoying the experience.
It's a waste of money you may end up needing for more down-to-earth things like paying the mortgage or buying food if nothing turns up for you on the job front in the near future.
It often takes people a few months to find a new position after they have been made redundant. But during those months they are continually looking for and applying for new positions. Don't think that if you go on holiday for a few months and then come back a new job will somehow magically be waiting for you.Prospective employers tend to look askance at any prolonged period of unemployment on your record, particularly one you're still in. They assume that you must have been looked at and rejected by plenty of previous employers and therefore must have something wrong with you. This is a deeply ingrained, and deeply irrational, prejudice. Of course in six months you'll still be able to fix widgets, or function in an office environment, or do whatever else it is you do, just as well as you can now. But that's not how employers see it. They imagine that your all your social skills have somehow atrophied, and that you're now a hollow-eyed human wreck who sits staring at the walls all day.
For this reason a prolonged gap in your employment record is corrosive and can become self-perpetuating. Some people who have taken six-month time-outs have never been able to get back into the same field again, or have been able to do so only with great difficulty.
Travel after Redundancy – Conclusion
Taking a break to travel can be a great temptation after you've been made redundant. It can have negative consequences, though, so think about it carefully before you embark.
You might also like...