Redundancy and the Question of Age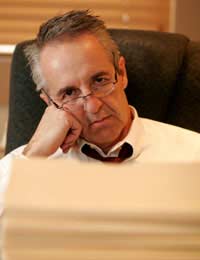 Statistics show that, for older workers, redundancy is often a much more serious problem than it is for younger workers. They find it much more difficult to find new jobs and to switch to new career tracks. The age banding scheme which is built into the Statutory Redundancy Payments (SRP) system reflects this, requiring employers to make more generous payments to their older workers. Unfair dismissal payments also reflect the same age banding.
Age Discrimination
For a long time, it was common for older workers to be singled out for redundancy when jobs had to go in a workplace. Since 2006, however, age discrimination has been illegal, and this practice is now therefore banned. Habits die hard, though, and some employers still haven't got the message.
It is legal for an employer to discriminate among employees on the basis of their length of service with the company, but not their age overall, as long as they can justify this objectively based on sound business considerations.
What "objectively justified" means in this context is not completely clear. As the relevant legislation is of relatively recent date, there is not yet a substantial body of case law based on disputes which have been thrashed out in the courts. As with the sex discrimination laws previously, it is likely that certain criteria used by an employer to select for redundancy, even though they may not be overtly age-based, may be found to be indirectly discriminatory on the basis of age. For example, the practice of singling out part-time workers for redundancy has been found to be indirect sex discrimination because the part-time workforce consisted disproportionately of women.
When only part of a workforce is being made redundant, the employer should clearly explain the selection criteria used to determine who would go and who would stay.
If you feel that you are being discriminated against on the basis of your age, your employer's conduct may amount to unfair dismissal, and you can complain about it at an employment tribunal.
Age and Redundancy-related Payments
Before the age discrimination legislation - Employment Equality (Age) Regulations - introduced in 2006, it used to be that older workers would lose some of their rights to redundancy pay after the age of 64. This is no longer true. Older workers now retain full rights. The lower age limit of 18 applying to redundancy pay was also removed.
Health Concerns in Older Workers Who Are Made Redundant
Research has shown that older workers who are made redundant tend to experience health problems disproportionately compared to other workers in the same age group. One study found that the incidence of heart attack and stroke was twice as great among over-50s who became unemployed following redundancy compared to their peers who were still working.
This result remained valid even after adjusting for other factors such as obesity and high blood pressure which might have been expected to be of greater significance in a less physically-active population. It is believed that psychological factors, such as stress, lie at the root of the problem.
Age Issues in Redundancy – Conclusion
Redundancy inevitably hits older workers unusually hard. Thanks to the age discrimination legislation passed in 2006, however, they now have a little more protection from the government.
You might also like...
i have been on the Furlough scheme since it started however i received a letter to report for a job which would take me on a 6 hour return journey or i would have to stay away from home which i dont want to do either i contacted my employer and asked if there was nothing else they could offer me or if redundancy would be on offer there reply was redundancy wasn't on the cards unless i could come up with a figure of what i would be happy to take and unless it was a realistic offter that they would look at otherwise I had to go to the job 1 i have no idea what a realistic offer would be as i am 65 and with 19 years service 2 can they force me to go to the job or lay me off 3 what are my legal rights in a situationlike this
Pat
- 23-Jul-21 @ 5:40 PM
My company sent me a set of figures for VR and then called and asked for pack back as I will be 65 in August 2021 and the redundancy will be in April 2021 therefore they claim they made a mistake and want to reduce my offer from 22 weeks to 18 is this correct ?
Chop
- 6-Oct-20 @ 6:12 AM
I am 62 and my husband is 60 . I am being made redundant in a couple of months after 15 years with same company and my redundancy package is £15000. My husband brings home £300 a week and we still have 12 years left on our mortgage. I also suffer from episodes of stress depression and anxiety and on medication for this. Will we be entitled to any benefits
PetPAT
- 2-Oct-20 @ 10:37 AM
I am over seventy, if I am made redundant, do I still get redundancy money
Dete
- 7-Sep-20 @ 11:02 PM
I am currently only part time pay (24 hours), I suffered Stroke and have yet to increase my hours. My company want to make people redundant, they are only offering the Redundancy that the part time rate. I thought that they should pay it on the full rate (38 hours). Does any one have any thoughts.
Rio
- 18-Aug-20 @ 9:59 AM
My friend from work has just become a pensioner and the firm is looking for redundancy and she has been with them for 18 years will she still get redundancy pay
Tracey
- 15-Aug-20 @ 11:14 AM
My employer is offering voluntary redundancies, can he refuse me because I am 66 years old
Ronnie
- 11-Jul-20 @ 8:45 AM
I will be 70 next January I'm fit enough and still working what age can you work to is there an age limit. Yours Para
Para
- 22-Jun-20 @ 9:26 AM
I am 67 years old and still working, am I entitled to redundancy???
Dave
- 2-Jun-20 @ 11:28 AM
Is it age discrimination if your company is offering redundancy for all employees but for those employees who are 60 they are being told to take their company pension with 50%less redundancy that colleagues under 60
I am currently in consolation with my employer we have had an initial meeting and a 2nd in which concerns were raised the reasoning for redundancy being relocating our department to head office and the fact all operation and managers all under their same roof. Thus is not the case as the office where operations are to be moved the manager of this office works at another location 100mile away. This was raised at 2nd meeting specifically requested it was minuted but on recept of letter no mention of this query. We have since of the record been told hr only wanted all relevant info in the minutes and this was how the presented itself all info that the company felt relevant.. We have also been told by colleagues in there meeting that the older members were not long term plan of business but younger members were. Were do I stand legally
Willow10000
- 28-Mar-19 @ 10:50 PM
I agree with Joskins, but I want to go one step further and look at those under the age of 22, that are most disadvantaged when it comes to redundancy pay. The government argue that younger people will find it easier to find another job, and this is they offer a lower payment for younger workers. However, current unemployment rates at 3.9%, and the youth unemployment rate is 11.5%. That doesn't add up to me. To impact on 16-22 years old even further, then government suggest that apprenticeships are the way forward, which brings me to further but if age discrimination. The minimum wage is currently £7.38 for those 21 and over (less if you are younger!) and only half this amount for those undertaking the first year of an apprenticeship. No wonder the young people of this country are unhappy.
Chris
- 9-Mar-19 @ 10:03 AM
I didn't add that the employee retracted was only 30
Ellvie
- 4-Oct-18 @ 12:12 PM
I am 58 and have been made redundant along with 4 others , however one has now been retracted which leaves 4 of us over the age of 50 can this be age discrimination
Elfvie
- 4-Oct-18 @ 12:08 PM
Company retirement age is 60,took my company pension but decided to work on until I am 65, if the company done reshuffling and my role was removed and there was not a chance of being redeployed could the company just lay me off or would I have to be made redundant with a payment. Thanks Les
Pud
- 13-Jul-18 @ 2:54 PM
HI, I am struggling to understand this. I am 31 years old and facing redundancy, I father 2 children under 5 and am at a part in my life where I struggle month by month to cover my mortgage, bills and feeding and clothing my children. A colleague who is much older than me who's kids are grown up and no longer rely on his support, who's mortgage is paid off and who also gets a second income from a second property that he lets out, as well as having a lifetime of savings and more to fall back on than myself is looking at getting a higher redundancy payout than me even though he's worked a years less service.in the company than I have. How does this work out? I feel that I am being discriminated against because of my age.
Joskins
- 10-Jun-15 @ 11:35 AM