Redundancy: Telling Employees in Person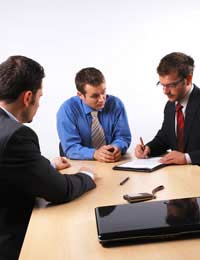 Hearing the news that you are being made redundant is never easy to absorb and much like when any relationship ends it is always better to hear the news in person.
But with the invention of the internet and mobile phones it is no longer the case that employers and employees work out of the same office space, or indeed the same town or city.
With an increasing number of employees working off-site it can sometimes be impossible for an employer to relate the news face-to-face.
It is not essential that an employee is made redundant face-to-face, but it is essential employers consult with members of staff in a fair way over any impending redundancies.
When it's Appropriate to Tell Employees Over the Telephone
Due to an increase in flexible working and firms outsourcing their work off-site, it can sometimes be impractical for managers to be in close contact with their employees when redundancies occur. If you are based on the opposite side of the country to a number of your staff you may wish to delegate out the task of making them redundant to another member of your staff or senior management. You must make sure that any employees you are making redundant are armed with the same information as other employees that are being made redundant face-to-face.
If one member of staff is based far away it should be enough to contact them via the telephone and send them written confirmation of their redundancy, telling them the exact same information that you told the other members of the workforce in person.
If staff are absent due to illness when you are making redundancies you must make an effort to try and meet with the employee and if possible visit them at home, that is off course if they want this.
You must ensure that the redundancy process you have in place is fair and does not discriminate against those who are not in work. All employees should be told at roughly the same time where possible and each given a chance to speak with somebody about the process.
When it is Not Appropriate
Making redundancies is never easy and you could find it tempting to try and avoid the issue or deal with it over the telephone or via email.
But if you work within close proximity of the people you are making redundant you should try your utmost to tell them face-to-face. Not only does telling your employees face-to-face show a sense of respect and camaraderie it also helps avoid any potential issues down the line concerning unfair dismissal.
If you cannot tell your employees face-to-face they may have questions that go unanswered and argue that the redundancy process was not explained clearly enough to them when you carried out the redundancy.
The way in which you make your employees redundant is important, it is not just enough to tell them that they have been made redundant you must also support them and go out of your way to tell them directly where possible. Things can be explained better in person and if there are any questions it is better to speak directly about them rather than decipher what the other is thinking over the telephone or email.
You might also like...
my partner has just been made redundant they way she was picked was because she had 14 days sick which was down to the complicated birth of our son she returned to work for a couple weeks after her maternity finished and she notified the employer that she may struggle to do the every day tasks she used to do after a couple weeks she had to go off sick due to her ongoing problems her work are using these dates as a way to pick her for redundancy can they do this
1234
- 9-Aug-20 @ 5:49 PM
My partner has worked for a company just shy of 2 years. He has been furloughed since March and has received Furlough payment everymonth so far, (next payment due 31st July) but only 1 payslip in June and no contact from the company. I am friendly with a few members of the staff and they have all been notified of redundancy 4 weeks ago (we believe the business is closing) Except my partner he has had no notification/ email/ phone call nothing. as far as he is concerned he is still furloughed but the only 1.I can see this as he has been forgotten about....You may think that sounds ridiculous but you don't know the company!So if he should have received notice or been notified but hasn't where does he stand?As I say the company have not spoken to him once since the day he was furloughed.
Neats
- 24-Jul-20 @ 4:28 PM
We are going through a consultation period at work. My husband who doesn't work for the company was chatting to the consultation representative for the company I work for, when my husband was told that I would be made redundant. So my husband knows before I do, I've not had it confirmed officially to me. I've tried contacting my boss but he isn't answering the phone or the email I sent to him & the HR lady hasn't replied either. My husband also told me who else is up for redundancy at my place of work. Is this a breach of protocol & can I do anything about it?
Sarah m 17
- 11-Jul-20 @ 8:33 AM
Should I receive a letter stating that I'm to be made redundant and when my 3 months consultation date will start from.? I've only received a 2 min phone call so far.?
Peter Mac
- 28-Apr-20 @ 9:52 PM
I rised a grevance agaisnt my employer - its partically upheld. He is now makeing my specific role redundant nd subsuming his role and mind, even though he has talked about taking on less reposibility. I have the reducnancy meeting tomrrow, any advice, in my mind this is clearly unfair.
crozza
- 18-Nov-19 @ 10:57 AM
Company made a decision approved by the board 3 months ago to close the company but have then waited 3 months before announcing it to employees. (12 employees). Is this right?
My company held a "consultation" with 14 staff on Monday the redundancy word was NEVER mentioned just a chat about Tupe to another company et I have word from another member of the same company based down south that they've been notified their accountant (from our office) will be leaving by 1st august and another name givenof someone no one has heard of!! Surely this is wrong to notify others before we have been notified??
Mishmosh
- 10-Jul-19 @ 11:37 PM
I was given notice of redundancy by voicemail whilst the organisation knew I had just been admitted to hospital and was in ITU.
Sedrait
- 1-Jun-19 @ 9:36 AM
Hi I was made redundant on the 28/02/19 we were told when we got home from work after being there all day . They told us all not to bother coming back as the company was going into administration. We have had no consultation period or letters just out last pay slip and p45 . And a letter telling us a code for claiming our redundancy from the government. Should we have had a consultation period there were 23 staff .
Robbo
- 11-Apr-19 @ 5:53 PM
We are on a 30 day consultation (from 5/3/19) period. After that our whole team of five face a 30 day notice period of redundancy. We have also been told not to let the 20 plus colleagues in a small office know the company has made this decision. We are aware that only 1.3 of the five jobs is safe and have been told we need to prove our worth over the 30 consultation period. Is this fair practice?
Blewit
- 6-Mar-19 @ 12:18 PM
Good morning, I was told I was part of a redundancy pool and was safe but after they had already made the decision of who they were making redundant. Is this fair process?
I am in the process of voluntary redundancy .I want it as I have 26 years service.I am currently on leave can I be made redundant without me having a face to face meeting with my manager.I need to be made redundant in two weeks so I can access my pension at 55 without deferred benefits . So if I make two weeks without a meeting then work my 12 weeks I'm OK financialy.but if not then obviously not
Stevo
- 8-Nov-18 @ 2:12 PM
Man - Your Question:
I am 3 days away from 23 years service and been given redundancy and the provisional calculation is for 22 years, is there anyway I can raised this to my employer as unfair and ask them to re calculate. I need some advice
---
Our Response:
You can calculate what you should be officially owed via the gov.uk link
here
. Much also depends whether there is an upper limit cap i.e (20 years' service) - you would have to speak to your employer directly regarding this matter.
RedundancyExpert
- 11-Jan-18 @ 10:07 AM
I am 3 days away from 23 years service and been given redundancy and the provisionalcalculation is for 22 years, is there anyway i can raised this to my employer as unfair and ask them to re calculate.I need some advice
Man
- 10-Jan-18 @ 3:28 PM
Can our employer make us apply for our own jobs to save paying redundancy
Smudge
- 28-Oct-16 @ 3:22 PM
My employer told me my job was at risk of redundancy via email. I work nights but was in later on in the day that we were emailed. I have still not had a face to face meeting. Is this a ok for them to have informed me via email?
Charlotte
- 29-Mar-16 @ 6:48 PM
I work in a busy reception and it's a job share position.I do mornings.During the time I've worked I have had 3 jobs share partners on the afternoon shift. I have offered to do full time but have been told no as it would mean finding cover for my lunches and holidays. I come under the HR team in my position. Yesterday I was on informed my job was being made redundant. A new position has been made available that I am welcome to apply for,it's basically the job I do now plus a few extra tasks from the HR department on a full time basis with a change of job title. Working at the same desk. I am I right in thinking I should have been offered this position rather than being told I can apply for it. Out of 16 points on the job description I already carry out around 12 of the tasks in my current position. Any advice would be appreciated. Thanks
Annoyed
- 24-Feb-16 @ 8:26 AM
Hi my husband has just received a letter from his company saying he is at high risk of redundancy. Along with this letter was a form to fill out for voluntary redundancy. My husband filled this in straight away and took it in to work but they have refused it. Can they do this?