Looking for a New Job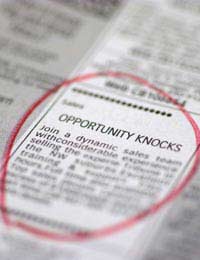 Some people engage in a job search constantly, flitting from job to job every year or two; others may stick with one employer for much of their lives. Whether it's something your used to or not, redundancy throws you back into the employment marketplace with a vengeance.
Looking for a New Job When Redundancy is Imminent
Often you will have long advance notice of redundancy and be forced to wait months before the dreaded day arrives. Naturally, during this time, you will be looking for a new job. When you do that, it's important to know how your job search is affected by the carefully-defined legal status of redundancy.
For one thing, your employer is required to give you "reasonable" time off to look for a new job and to attend job interviews. You should be paid for this time off just as if you were working. The law does not precisely define what "reasonable" means in this context, and your employer may ask you for some proof, such as letters inviting you to attend an interview or the like, to show that the time was well spent.
Second, it's important to understand that if you do find a new job and leave to start work in it before your official redundancy period ends, your previous employer is not required by law to give you a redundancy payment. Some will, and some won't, but you should not assume the former.
Redundancy Networking
Networking is always valuable if you're looking for a job. This can be especially true in redundancy situations. When a large number of workers are made redundant at the same time, it tends to increase their feelings of camaraderie, a bit like soldiers in trenches when shells start to land close by. Redundancies often involve extended notice periods, so that fellow feeling will have time to build up. By time it you have actually been made redundant, and are now on your own and looking for a job, you may find that you are on better terms with many of your colleagues than you were when you were working alongside them!
Everyone will be looking for work at the same time. Some of your colleagues will find their way into companies which are also looking for other staff. They can let you know of these opportunities, and their recommendations can give you an advantage. Of course, there's also the opposite effect too. You may all be looking for similar jobs in the same general area at the same time, so don't necessarily expect your colleagues to give you job tips until they themselves have been either accepted or rejected for the position.
You can also reach out beyond your immediate workmates. If there are other people with whom you have regular contact in the course of doing your job, those who work for suppliers or partner firms for example, don't be afraid to let them know of your situation and put feelers out to see whether their companies have any vacancies going or whether they know of any elsewhere.
Looking for a Job Online
A great deal of recruitment is now done online. Many jobs are only advertised over the web, and, for certain positions, some companies will only accept electronic applications. If you're one of the diehards who has managed to avoid the digital revolution thus far, your redundancy, imminent or actual, is a good opportunity for you to catch up. Computer which may not be able to run the latest games but which are perfectly fine for surfing the web, sending emails and running a word processing application are now available very cheaply. Inexpensive broadband deals are also common. Trying to find a new job without Internet access these days is like fighting with one hand tied behind your back. If you really can't afford it, your local library almost certainly offers cheap or no-cost Internet access facilities.
Employment Agencies
Someone once joked that estate agents or used car salesmen who were kicked out of their profession for having lax morals would slink off to become recruitment consultants. They certainly have a bad reputation, and, frankly, much of it is justified. But thanks to the nature of their work, they do develop a strong sense of the economic health of the sectors they specialise in recruiting for; they will know which companies are looking for staff and which aren't, and will often know of vacancies which have not been advertised. Now and then, you might even be able to find an honest one.
Looking for a New Job – Conclusion
No one likes looking for a new job, and redundancy makes it especially stressful. Just hope that Fate has something good in store for you, and help Fate out by employing optimal job search strategies.
You might also like...