When a Workforce Fights Against Redundancy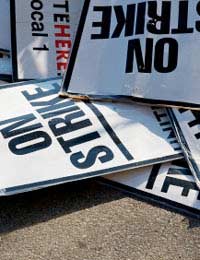 The announcement of redundancies often comes as a shock to the workforce affected. Sometimes shock turns to anger and a general urge to fight the redundancies may be felt. But what options does a workforce really have to change the mind of an employer intent on making some or all of its workers redundant?
Fighting Redundancies in the Past
It used to be quite common for a workforce to fight against threatened redundancies. Often there would be a strike. The work site would be picketed. The workers would hold up signs and sing chants, hurling insults and sometimes more at any "scabs" who dared to cross the picket line.
Scenes like this used to feature regularly on our television screens, but now are much more rare. Why the change? For one thing the public sector is smaller. The vast nationalised industries of yore have been privatised. Redundancy-fighting campaigns tended to be more effective when the employer, or behind-the-scenes paymaster, was the government, because the government was subject to political pressure from the electorate. Creating enough of a public fuss, trying to win over the general public to your point of view and turn the issue into a political football, was often enough to win a workforce a reprieve.
Unions were also more of a force in the past than they are today. Membership in unions has diminished generally in recent decades, and unions are subject to greater legal restrictions than they were in the old days. For example, secondary strikes are now forbidden by law. Secondary strikes occurred when employees at another site working for a different employer, who may not have been affected by the redundancy in any way, nonetheless chose to go on strike in sympathy with those who were. With a chain reaction of industrial action like this, the disruption to the economy, and therefore the pressure on the employer to reach an accommodation, was obviously much greater. Now that secondary strikes are banned, however, that weapon is no longer in the arsenal.
Fighting Redundancies Now
So fighting redundancies is much harder now than it used to be. But some things remain true. One is that you will probably find it much easier if you're in the public sector, because public opinion still restrains the actions of politicians somewhat. Another is that it will be easier if your workforce is unionised. Otherwise the workforce will have to organise from scratch and will be completely isolated, without the national connections and contacts that a union can bring.
Approaches to Fighting Redundancy
Once you've embarked on a course of confrontation with your employer, public opinion is still your best friend. Private employers may not be as dependent on the good graces of the general public as politicians are, but they do still care about their reputation, and if they operate in the consumer sector, would run the risk of consumer boycotts if they did something utterly outrageous.
Going on strike is another approach to changing the employer's mind. Fundamentally, this is a question of economics. If the employer will lose more from the strike action than it would gain from making the redundancies, strikes, or the threat of them, may be an effective deterrent. Where only part of the workforce is being made redundant, those who will keep their jobs naturally must demonstrate solidarity with those who will not. Where the entire workforce is on the chopping block, it is likely that the employer has already made plans for the loss of output from that site in the near future. Strike action may therefore be completely ineffective.
In this connection, it is worth noting that days spent on strike are not counted as part of the period of continuous employment required to grant eligibility for certain redundancy rights, such as the right to a redundancy payment, for example. If you're only a borderline qualifier, therefore, think twice before going on strike!
Fighting Redundancy – Conclusion
It has to be said that campaigns against redundancy rarely prove effective today. If you are determined to fight one, however, it will help greatly to have a trade union and a good PR strategy on your side.
You might also like...