How to Tell Employees You Are Making Them Redundant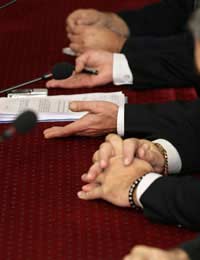 If you are the person whose responsibility it is to tell employees that they are being made redundant, you owe it to them to tell them in the 'best' way possible.
You may be their boss, line manager or human resources manager. Whatever your title, this task goes beyond job description and into people's real lives. You have to get this right because it will have a great impact. That said, you also need to be honest and straight forward – when you need to make people redundant, as long as you are completely acting within the rules of employment law – you must do it as soon as possible.
Part of the Job
Making people redundant is never fun. Anyone who has had to do it will tell you that it is one of the worst parts of their job. Invariably, there is a painful or difficult reason in every case – perhaps their wife is pregnant, or they've just moved house…the list is endless. There can also be a funny sense of relief that it is not you being made redundant, which can give off a strange, sub-conscious atmosphere.
Don't forget that redundancies in the current economic downturn are not really coming out of the blue. Employees know that there is a recession on and they usually know about the state of the business – perhaps your company is in the financial or construction sector, both of which have been especially badly hit by the problematic economy. There is usually office gossip well in advance of people being made redundant, which can be absolutely the most stressful part. Not knowing is horrible, so you need to talk to your employees straightaway – although not before you've at least planned what to say.
Telling Individuals
If you need to make one or two people redundant, you must speak to them individually. However, if you have an open plan office, or an office where everyone can see who is coming in and out of your office, please do not call them in and then have them come out shell-shocked for all to see. In this situation, it is better to arrange to meet them in another part of the office, if you are able to, or arrange to speak first thing or last thing in the day.
Telling a Group
If you are telling a group or team that they are being made redundant, it is acceptable to tell them altogether, although you must be aware that redundancy can make people feel very angry and this can be exacerbated in a group situation.
Once you have gathered the appropriate people together, you mustn't beat around the bush. Start by saying that you are sorry to have to inform your team/the person that you need to make them redundant. You must give some reason as to why – this is both polite and an important part in helping the people understand why this is happening. Be prepared for an emotional reaction and the fact that you may be the focus of their anger/sadness initially. Don't 'argue' back but don't be a 'punch bag' either. It's best to have the support of another senior colleague, but be careful not to come across as 'us and them'.
Ensure that you can offer support and advice to your employees – it is a good idea to have an HR advisor on hand when you talk to your staff.
You might also like...
I see that it is considered acceptable to tell a team of people that they are being madexredundant 'as a group'. However, is it acceptable to tell a team of people (as a group) that some jobs are safe (and naming those roles) and that some are being cut and therefore certain individuals' jobs will be at risk. Should this not be done on a one-to-one basis?