When an Employer Offers Alternatives to Redundancy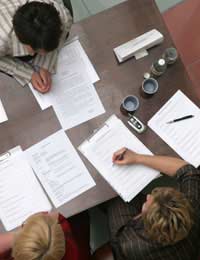 When a company announces that some of its employees will be made redundant, it is very common for those affected to be offered alternatives to leaving the company entirely. In fact, the employer is required by law to consider alternatives to redundancy. If appropriate consideration is not given, this can form the basis of a claim against the employer or former employer.
It's important to note, too, that you do not have to wait for your employer to propose alternatives to redundancy to you. The workforce, through their representatives, which can mean either a trade union, or other representatives designated on an ad hoc basis, can also propose alternatives to the employer, and the employer is required to consider them. Furthermore, it's also important to note that you, the employee, are also required to seriously considered any alternatives offered. If you reject reasonable alternatives out of hand, you may lose your right to a redundancy payment.
Moving Into Another Job With the Same Company
The employer can offer you the option of moving into another job at the same location. Retraining may also be involved, or it may be unnecessary. This is the most commonly offered alternative to redundancy. From the employee's perspective, this option naturally gives rise to some concern. Does the alternative job offered involve a pay cut or an unfavourable change in your working conditions? Is it within the same specialist area within which you have chosen to develop your career?
Reducing the Workforce by other Means
The goal of a redundancy program is to reduce the workforce. But there are other ways of achieving that. For example, if it is acceptable that the workforce is reduced gradually over a period of time rather than all at once, the employer can consider what is called "natural wastage", meaning, simply, that those who leave the company for whatever reason will not be replaced. Most ordinary recruitment is frozen, and the number of employees is, therefore, gradually whittled away.
Along similar lines, sometimes it is proposed that there be a purge of temporary contract workers, leaving the core workforce intact.
Changes to Your Conditions of Work
When a company plans to make some of its workers redundant, its goal, in nearly all cases, is to save money. Perhaps the volume of business it is getting from its customers is not enough to keep all of its workers fully employed and still make a profit. From the company's perspective, this is the problem that must be addressed. And letting part of the workforce go is the usual way of addressing it. But there are other ways.
For example, the workers may be asked to take a pay cut. This could mean a direct salary reduction, or they may be asked to forego bonuses or favourable conditions of employment. The changes proposed may be either on a temporary or permanent basis.
In a similar vein, short-time working, or even temporary lay-offs, may be alternatives to severing the employment relationship entirely.
Moving to Another Company Site
Many companies operate from multiple sites. When redundancies occur, they often affect one site only. You may get an offer from your employer of an equivalent or similar job at another location.
Alternatives to Redundancy – Conclusion
Considering any possible alternatives to redundancy is an important part of the redundancy process for both employer and employee.
You might also like...
Hi. I am a 55 year old male with 12 years service working for a national size gas provider who are offering large scale voluntary redundancies. They have so far sent out a payment calculator and are soon to start consultations with the union involved. The union have asked if we have any questions to put forward and I have asked if over 55 year olds would be offered early retirement with any shortfall in years waived, as I believe is often the case. I would also like to ask you guys if this actually is generally the way a large company would go, as I've a feeling they just want to make payments and get rid. I would also like to find out if I will by law be spoken to,1 to 1 before things are made final. I have been trying to find things out from my Union reps but they are in meltdown with phone calls and emails and very little detail to offer at the moment.
Gazza
- 28-Jun-19 @ 7:18 AM
Can my boss change the name of his company & thereby being a new company, would I then lose continuity of working years and be able to avoid paying compensation, or if were kept on would it be the start of a new employment, then after short while be able to lay off without redundancy.
Sally Wright
- 6-Feb-14 @ 8:14 PM
I have been offer another job with about 30% lower than my current salary,I am entitle to about $70,000 after tax in redundancy. Do I take the new job which has got long term prospect or wait for the redundancy?
Gersieman
- 10-Dec-11 @ 1:00 AM
I have been offered alternative to redundancy - doing the same job as I am doing now but in a different location - an extra 26 miles a day travelling. My employer has said that if I dont accept the alternative I will not be given any redundancy pay. I asked for the 4 week trial period of the job so I could see how much the travelling and extra petrol costs affect me and they said I could have a trial but again, if I decided it was not suitable I could leave but would still not be given redundancy pay. this seems unfair - any ideas???
caz
- 19-Nov-11 @ 10:01 PM