Where to get Outside Help on Redundancy Issues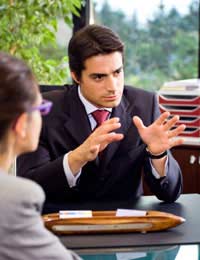 Most people facing or threatened with redundancy find themselves stressed and confused. Your livelihood may be taken away. Your future is uncertain. And you might have difficult choices to make. You have specific legal rights in a redundancy situation. Many employees don't know what these are, however. Some unscrupulous employers will exploit that; and there are, of course, some ill-informed employers who don't even understand what their obligations are. So where can you get help and advice on the issues you face?
Trade Union
If a redundancy is going to occur, your first and best source of advice is your trade union, if you have one. A good trade union will have experts who understand the law intricately, and experienced trouble-shooters who will have seen situations like yours before. If appropriate, they may even be able to come in and negotiate with your employer on your behalf, attempting to wring out as favourable a settlement as possible from your perspective.
Your on-site trade union representatives should be able to field most of your questions about redundancy directly, or, if the question is very complex, relay them to experts elsewhere within the trade union organisation for advice.
Citizens Advice Bureau
The Citizen Advice Bureau (CAB) operates a network of information centres up and down the country which offer advice on a wide range of issues, including redundancy. Advice is provided in person, on the telephone or over the internet.
Lawyers
Redundancy is an issue which often gives rise to legal disputes. Employees, or ex-employees, can make claims against their employers if they believe they have been dismissed on a discriminatory basis, or if the employer did not handle the redundancy process as required by the law, for example through failing to give the correct notice period, or failing to consult properly. Disputes are normally heard in front of an Employment Tribunal. Lawyers can represent the person making the claim. Many lawyers offer a no-fee initial consultation, and some operate on a no-win\no-fee basis. In certain circumstances, then, lawyers with experience in redundancy issues can be a valuable source of information.
It is important to note that you should not approach a lawyer for casual advice, but only if you have good reason to believe your employer has acted wrongly, and are seriously considering taking legal action against them.
Insolvency Service
When your employer becomes insolvent and ceases operation entirely, it will clearly not be able to pay you any money you are due. In such cases, most of the employer's responsibilities in this regard are taken over by the Insolvency Service, a government agency which will make payments to you instead of your former employer. The Insolvency Service provides free advice on redundancy issues via a telephone hotline and through their website.
Note : you should only turn to the Insolvency Service for advice on redundancy if your employer actually is insolvent. If your situation involves a partial redundancy only - in other words some staff leaving, but others continuing to work - you should look elsewhere. Visit the Insolvency Service website for contact details.
ACAS
ACAS is the Advisory, Conciliation and Arbitration Service, an organisation dedicated to improving workplace relationships in Britain through the provision of information and mediation services. Although mainly government-funded, ACAS is operationally independent and thus completely unbiased. It is happy to provide free advice on redundancy issues via a local-rate telephone number. Visit the ACAS website for more information.
Help on Redundancy Issues – Conclusion
If you're facing redundancy, and not sure about what your options are, as you can see there are a number of organisations willing to advise you at no cost.
You might also like...
I was tuped from one company to another in June 2014. I have now been tuped to a franchise manager from the second company listed above ! My role as assistant manager will cease to exist under the new franchise manager and he states that my salary and bonus earning opportunity will not remain the same as it was pre June 2014 - i.e. no bonus opportunity and a lower income. The new role will be supervisor. My question is a) can he do this? and b) am I entitled to redundancy if I refuse.
jannes
- 18-Oct-14 @ 2:51 PM