Completing your Secondary Education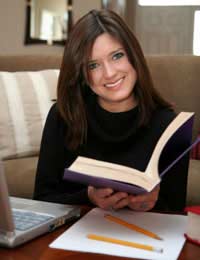 In secondary school, few of us took our studies as seriously as, perhaps, we should have. Our results there can have a shaping influence on our entire lives. Some of us end up regretting that we didn't apply ourselves a bit more.
If you're one of those people, redundancy may be the ideal time to resume your secondary education, and get those results you didn't get the first time.
The idea of returning to a school environment, surrounding by hordes of screaming children, may be distinctly unappealing to you. Don't worry. You won't have to go back to Hellhole High. Colleges also offer courses leading towards secondary qualifications. You can go there instead and learn with other mature students.
Typically, for secondary-level qualifications, colleges will offer both full-time and part-time options. Entry requirements will vary from one college to another. Part-time study usually takes place in the evenings so it can be combined easily with full-time work.
Financial Help for Continuing Education
If you're thinking of upgrading your secondary-level qualifications, or getting them for the first time, you will naturally want to know what financial help is available to you. Forfeiting the income from a job will clearly have a serious effect on your finances.
Various forms of financial support are available if you are pursuing full-time education. One is the Adult Learners' Grant which gives you up to £30 per week during term time. The actual amount of the grant depends on your income level, including your joint income level if you live with a partner.
Check that you meet the eligibility conditions for this grant, though. One relates to your earnings: in the previous financial year, you must have earned no more than about £20,000, or £30,000 if you live with a partner. Another condition is that you cannot be claiming Jobseeker's Allowance or Income Support. However, you can claim other benefits such as Working Tax Credit or Child Tax Credit.
There are also conditions which relate to the qualifications you are going for compared to those you have already. Broadly, these conditions mean that you should be going for a range of qualifications at GCSE or A-level for the first time. In other words, the qualifications should be step forward for you rather than equivalent to those you have already.
The college you plan to attend must also have been approved by the Learning Skills Council, and your attendance at it must be satisfactory.
Discretionary Support Funds are also available from colleges and schools to support those experiencing financial hardship. Each institution allocates these funds according to its own criteria, so you should ask the local Student Support Officer or college administrative staff about how to apply. Usually any money you receive will come in the form of a grant, although sometimes a loan is given instead. It's important to note that the amount of money available for Discretionary Support is usually limited in any given year, so you should apply as quickly as possible if you're experiencing genuine need.
Secondary Education – Conclusion
If you've always regretted not working a bit harder at school, and felt the qualifications you achieved there always limited your options in life, redundancy may be just the time to tackle those challenges again and set your life on a new path.
You might also like...
can i recieve a grant for a higher education course that i have already began? if so how do i go about it?
steve
- 15-Nov-12 @ 4:54 PM