All About Franchises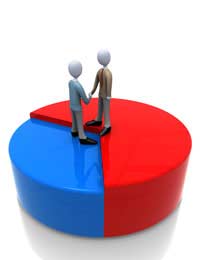 Many people think about opening their own business following a redundancy. You need to find new employment for yourself, and the redundancy lump sum gives you capital to help with the start-up costs. And after being the victim of a downsizing scheme dreamed up by higher management, there's a natural desire to be in charge of your own destiny.
Why a Franchise?
But along with the desire to start a business, there are often uncertainties. Perhaps you have no truly original business ideas. You may be unsure of your ability to pick a good location for the business premises, or lack confidence in some of the technical processes which may be involved. You have the capital. You have the ambition and talent. What you need is a helping hand. This is where franchises come in.
What is a Franchise?
Franchises are essentially joint ventures between you, the would-be entrepreneur, and an established business. In a typical franchise venture, the franchisee will invest a substantial amount in a well-known business brand, and, in return, will receive permission to set up a local branch of the business together with all of the training and contacts needed to make the business successful. Once the business is operational, you will be required to pay a percentage of your takings to the franchising company.
Many well-known business brands operate partly, or even primarily, on the basis of franchises. The majority of McDonalds branches worldwide, for example, are franchises.
Acceptance onto the Franchise Programme
It's important to recognise that your acceptance onto a franchise programme is not automatic. Having enough capital to hold up your end of the bargain is not enough. You need to apply for a franchise just as if you were applying for a job. The franchising company must be convinced that you have the drive and talent to make the business a success. After all, as far as the general public is concerned, there will be nothing to distinguish your franchise business from any other branch of the same company. Therefore, any failure on your part could reflect negatively on the company brand.
To be accepted as a franchisee, you can expect to be interviewed by the franchising company, and may even have to face several rounds of interviewing. You may have to submit a business plan, and some franchisors may require you to be able to demonstrate specific kinds of experience, for example managerial experience, in your work history.
Finding the Right Franchise
A wide variety of franchise opportunities are available. The majority are in the retail sector and will involve fitting out your own business premises. Often this requires substantial investment. If your redundancy cheque won't stretch that far, you may be able to supplement it with a bank loan, although often franchisors will specify a minimum amount of capital which must come from your own resources. Not all franchises require heavy up-front investments, though. Some franchises can be run part-time or from your own home.
There are websites which provide lists of currently available franchising opportunities. Be sure and exercise due diligence before committing to anything. You can be fairly certain that a McDonalds or a Burger King isn't going to rip you off. But if it's a company you've never heard of, you need to be more wary. Take advice from lawyers and accountants. Check out the company's credentials. Consider consulting or joining the British Franchise Association, which can be a valuable source of information and assurance in this area. Stumbling blindly into a franchise idea which sounds too good to be true is a great way to be scammed out of your redundancy cheque.
Franchises – Conclusion
Franchising provides a route into entrepreneurship without all of the chaos and uncertainty often associated with going it on your own.
You might also like...