Start your Own Consultancy Business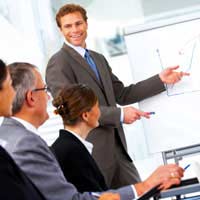 If the corporate machine has just axed you, you may be feeling a little miffed. As you contemplate your future, perhaps the thought of becoming a small cog in yet another corporate machine isn't very appealing to you. Has it ever occurred to you that the skills and experience you've built up over the years could be put to use in another way?
Of course, the consultancy option is not appropriate for all people or for all professional backgrounds. If all you did was put twist screws into passing widgets in a factory conveyor belt, it's doubtful anyone will want you to consult with them on the subject unless you were exceptionally good at it and felt that the experience helped you build up a rounded appreciation of efficient manufacturing processes generally.
Whether your knowledge and experience form an adequate basis for work as a consultant is something you'll have to decide upon yourself. It's worth noting, though, that in recent years management fads have led companies to focus on "core competencies" – the things they do best and which distinguish them as a company - bringing in outside expertise, often in the form of consultancy, for more peripheral work. This has broadened the market for consultancy business generally.
Non-Technical Aspects of Consultancy
More than just professional knowledge and skill, though, you'll need bags of self-confidence. What consultants sell is primarily reassurance. A consultant is called in when a company recognises that it doesn't have the in-house expertise to adequately deal with a problem. So the company has to be persuaded that you do. That means you need to be a good talker and a good listener.
Arguably, social skills are even more important for a consultant than the technical knowledge on which the consultation is offered. There are certainly plenty of smooth-talking, not especially technically adept consultants out there making money hand over fist, as well as lots of real technical experts, without great social skills, earning modest livings as a salaried employees.
To be successful as a consultant, you'll need to be able to present yourself professionally, feel comfortable talking to senior management figures and have valuable experience or expertise.
Taking Clients With You
In ideal circumstances, you'll have built up an established roster of regular clients in your previous salaried employment, and will be able to take them with you when you set up as an independent consultant. From their experience of working with you before, they'll know you're someone who can deliver the goods and so won't think twice about switching their business to you or, at least, throwing a portion of their business your way.
Watch out, though. Some employment contracts feature special clauses – often called non-compete clauses – to deal with circumstances exactly like this. These clauses may prohibit you from having commercial dealings with customers you worked with during your time as an employee. In some cases, they may be more generic and prohibit you from even working in the same business sector that you were in before. Usually, non-compete clauses are time-limited to one or, at most, a few years. If you violate a non-compete clause, your employer can take you to court. A financial penalty could be imposed or you might even face an injunction, a court order requiring you to stop whatever you're doing.
If your previous employment contract does contain a clause which you think might be problematical, it is worth going to see a lawyer about it. Non-compete clauses are often drafted overly broadly. The law may also grant you certain rights which cannot be waived by merely signing a contract. In practice, this means that a good lawyer may be able to find a loophole in the contract or may judge that its terms are unenforceable.
Consultancy - Conclusion
It's a big jump, going from salaried employee to independent consultant, and it's certainly not for everyone. But if you do have the skills and self-confidence to pull it off, you may find a new level of fulfilment in your work.
You might also like...