Questionnaire: Should I Go for a Job I Am Over Qualified For?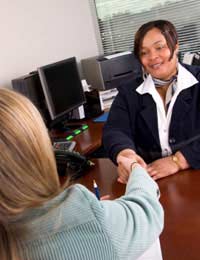 Swallowing your pride and accepting a job that is either less money than you're used to or a step down the career ladder can be hard to do.
For some a job is a job and the stigma that is attached to it is of little importance, but to others accepting a job that they are over qualified for can lead to feelings of frustration, boredom and in some instances depression.
As the reality of redundancy bites, you may be tempted to accept any job at whatever cost, but these few questions should help you decide when is the right time to accept a job you are over qualified for.
1) How Long Have you Been Looking for Work?
A) Over one year
B) Over six months
C) Less than six months
2) Are You Near Retirement?
A) Yes
B) Ten years away
C) More than ten years away
3) Is the Pay Enough for you to Live on?
A) Yes
B) Yes, at a push
C) No
4) Would There be Potential to Advance in the Company?
5) Would you Feel Embarrassed Taking a Step Back?
A) No
B) I would find it difficult to report to someone younger and less qualified
C) Yes, I would feel embarrassed in front of colleagues and friends
6) Do You Thrive in Any Job?
A) Yes, I am always looking for a new challenge
B) I can put my mind to anything
C) I get bored if I am not challenged
Your Answers
Mostly A –You Should Give it Your Best Shot
It sounds like you are in a good position to consider your options and start considering jobs that offer less money or less of a title. If you have been looking for a job for over a year it is likely your bank balance is running dry and you are in need of a wage desperately, so although you may be reluctant you may want to look at a job that is less rewarding. From your answers it also could be that you are reaching retirement or your health is deteriorating and promotions and pay rises are no longer top of your agenda for your career.
As long as the pay is enough for you to live on there are lots of benefits to working in a job that is lower down the scale than you are used to. You are almost guaranteed to be good at your job and can get satisfaction out of pleasing your boss. Your job may not as stressful as your old job and it may even be possible to move up the career ladder in the job you are in at the moment.
Mostly B – You Have Nothing to Lose
It sounds like you are in two minds as to whether taking a step down would be worthwhile. If you haven't been redundant for a long period of time and can afford to wait a little while longer you may want to keep your options open. There is the danger that if you took another job your dream job might come along and you would have to refuse it.
If you simply want to take a job because you are tired of looking it is unlikely you are going to stay in that job long, and this would cause a hole on your CV which might be hard to explain to future employers. You should only accept a job that you are overqualified for if you can see yourself actually doing the job and getting enough satisfaction out of your working day.
Mostly C – You May Want to Wait a While Longer
Not everyone finds a job that they are over qualified for appealing, and you sound like one such person. If you have not been unemployed long and have not yet reached the desperation stage you might want to take a step back and stop yourself from applying for posts that you are overqualified for. You run the risk of making yourself unhappy and bored with work, which could leave you unmotivated to find more work.
For some, working in a job they are over qualified for can come as a breath of fresh air. If you have been made redundant from a stressful job or one that required you to work long hours, there may be benefits to downscaling. You may find what you sacrifice in pay and challenges you more than make up for in terms of a better quality of life.
You might also like...