Will I Receive Maternity Pay in Redundancy?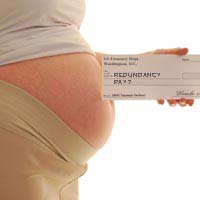 If your employer makes redundancies while you are absent on maternity leave you will still have rights and your employer will not be able to discriminate against you just because you are pregnant.
An employer will however still be able to make you redundant and your pregnancy will not act as a barrier to this.
When Can They Make Me Redundant?
A pregnant employee has just as many rights as those who are not, but an employer can make you redundant when they make the rest of the workforce redundant. They will have to follow the same process as they did with the others and tell you in writing why it is you are being made redundant. Your pregnancy will not be an adequate reason for making you redundant.
If your employer is redeploying people elsewhere in the group instead of making them redundant they will also have to consider you for these roles. They will be required to treat you in the same manner and offer you a job that matches your skills and offers similar pay, if one is available.
If there is no alternative employment in the company they will be able to make you redundant.
What Will I Be Entitled To?
Once your employment comes to an end your maternity leave will officially be over, even if you are only a few months into your maternity leave, it will end the day you are made redundant.
The good news is that your statutory maternity pay will not come to an end until its 39 week period has ended. So if for example you are made redundant ten weeks into your maternity leave you will continue to receive SMP for another 29 weeks.
You will also be entitled to your normal notice period or pay in lieu of notice and redundancy pay, if you would normally be entitled to receive them.
Returning To Work After Maternity Leave
Once you return to work after maternity leave your employer can still make you redundant. They will need to explain in writing why they have made the decision.
They will not be able to use your pregnancy or maternity leave as a reason; they cannot dismiss you for any reason connected with:
Pregnancy
Maternity leave
Paternity leave
Time off to look after children
Most employers are clued up when it comes to the law surrounding pregnant women, but many will still use it as an excuse to make you redundant first.
Unfair Redundancy
A number of employers will target those that they know will be taking maternity leave and make them redundant so they can avoid paying the cost of both redundancy pay and maternity leave. You should make sure you get a detailed written explanation from your employer as to why they have made you redundant. If they fail to comply with these requirements, regardless of the size of the company they could face charges of unfair dismissal and a case for sex discrimination.
Some employees try to hide the fact that they are pregnant from their employer if they know the company is in financial difficulty and planning to make redundancies. There is no need to do this but you should be aware that if the company has no choice it is still fair for them to make you redundant when you are on maternity leave
You might also like...
Jenny - Your Question:
HelloI have found out today that I am facing the posibility of redundancy. I am 26 weeks pregnant and if made redundant I will find out for sure on 9th Sept.Will I still be able to recieve Maternity pay? My Maternity leave starts on 9th October.I have not yet recieved my MATB1 form. I will get it tomorrow.Can you please advise me if I am still able to recieve this.Many thanks
---
Our Response:
ACAS has a leaflet: ' Managing redundancy for pregnant employees or those on maternity leave' link
here
, which while written to help employers work within the guidelines, it should answer your question regarding your entitlement as an employee. I hope this helps.
RedundancyExpert
- 13-Aug-15 @ 10:00 AM
Hello I have found out today that i am facing the posibility of redundancy. I am 26 weeks pregnant and if made redundant I will find out for sure on 9th Sept. Will I still be able to recieve Maternity pay? My Maternity leave starts on 9th October. I have not yet recieved my MATB1 form. I will get it tomorrow. Can you please advise me if I am still able to recieve this. Many thanks
Jenny
- 10-Aug-15 @ 7:57 PM