Is Overtime Calculated Into My Redundancy Pay?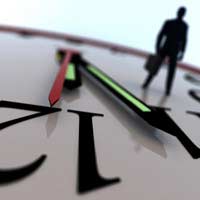 A normal working week for many no longer means working 9am to 5pm, five days a week. Working hours for most vary and your weekly pay packet can differ greatly from one week to the next.
A lot of people rely on extra work and overtime to supplement their income and if these were stripped away they would find themselves on a relatively low basic wage.
When it comes to calculating your redundancy pay, overtime and bonuses are not always given the recognition they deserve.
When is Overtime Included?
Statutory redundancy pay is calculated by using a normal week's working hours. If you are below the age of 21 you will be entitled to half a week's pay for each complete year of service.
If you are between the age of 22 and 44 you will be entitled to a full week's pay, and if you are over the age of 41 you will receive a week and a half's pay.
The pay is calculated based on your normal weekly gross wage, meaning before tax, national insurance and other deductions have been made.
There is a maximum weekly limit of £400, which means even if you earn more than this you will not be entitled to receive it.Overtime will only be included in your normal working week hours if your employment of work stipulates that you have to do it as part of your job. If you are doing overtime of your own accord than it will not be calculated into your redundancy pay.
If you work in a role where you receive regular commission and bonuses these will be taken into account and your employer should calculate your redundancy pay using the average wage of the last 12 weeks.
For example, for many people who work in advertising and sales they will often earn more in commission than they will receive in their normal basic wage. In this instance your employer should use the 12-week rule as your job means you don't have a normal week's wage.
What is the 12-week rule?
How your overtime is calculated is very much at the discretion of your employer and they will judge whether you have normal working hours or whether they will work out an average weekly wage. It will be up to them to judge what a normal working week's wage is. If they deem that you have no normal working hours they will calculate your normal wage by using the 12-week rule.
For example, if for several weeks you were earning £350 and some weeks you were earning £250, your employer would work out the average, which would be somewhere around the £300 mark.
If your job has recently changed from full-time to part-time unfortunately your redundancy pay will be calculated based on what your role was at the time of redundancy, so it would be your part-time wage that is taken into account.
If you were on holiday or off sick during the last 12 weeks, this will not be included in the calculations and you should instead use the week closet to the week you were off to work out your 12 week pay.
If you get a higher rate of pay for any overtime you do this will not be calculated into your weekly wage. Although your overtime may be calculated it will only be done so at your normal rate, unless you have to do the overtime as part of your working contract.
If your employer has miscalculated your redundancy pay or claimed your normal working hours at less than you think, you should challenge them about this and seek an explanation. If you are still not satisfied with their answer you should seek advice from a legal specialist.
You might also like...
The weekly cap mentioned is currently £489
Andy
- 10-Oct-17 @ 3:51 PM
My last employer payed my redundancy at 7.20 a hour wen it was 7.50 hr i havent recived the money as yetwat can i do ??
What would be my entitlement for redundancy if my basic wage is £15,000 per annum, my regular overtime is £1,430 per annum and commission is £15,500 (approx) per annum? My age is 57 and I have worked for this employer for 10years and 5months. Also how much notice do this company have to give me? If they make me redundant straight away, do they have to pay me notice and how is that calculated?
Scully
- 7-Sep-16 @ 12:43 PM
I have been with the same company since 1993, but I had 2 years off through illness. Are the 2 years (unpaid) included in the calculation for total years worked? Or does it mean that my redundancy is only calculated from 2003 when I returned to work?
Ted
- 30-Mar-16 @ 11:36 AM
Lara - Your Question:
Hi,I've been made redundant, will I still have to pay tax on my last lot of commision or is it tax free?
---
Our Response:
You would have to consult your employer directly regarding this.
RedundancyExpert
- 1-Mar-16 @ 11:40 AM
Hi, I've been made redundant, will I still have to pay tax on my last lot of commision or is it tax free?
Lara
- 29-Feb-16 @ 12:18 PM