Getting a Job When You Have Been Made Redundant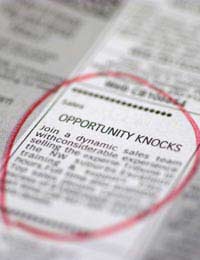 Finding the motivation to start working again after being made redundant can be hard but it is important to be resilient and get back into the work cycle.
Feeling sorry for yourself is not going to solve anything you need to pull yourself together and think positive in order to get back into the working environment.
These top tips should help motivate you and bring you back to life after the shock of redundancy.
1) Stay Motivated
Ok, so you have been made redundant you are feeling down and can't imagine regaining that confidence you once had. You must remember though that what has happened is not your fault and blaming yourself will not rectify the situation.
Small things can help motivate you on a daily basis, make sure you have a routine every day, similar to how your routine would be at work. Get up early, get dressed and start your job hunting early on in the day and finish at night. Make sure you eat well and exercise regularly as this will clear your mind and make sure you stay positive and at your best.
From time to time it might be a good idea to go back and look at some of the highlights of your career. You should remind yourself what you have achieved and how successful you are at what you do.
2) Don't Settle for Second Best
Worry and panic can often engulf those that have been made redundant. There is a risk that after being made redundant panic sets in and you are willing to accept any job that may come along.
If you are in urgent need of a salary it might be necessary to settle for second best, but if you have some time on your hands make sure you don't rush into anything or make any rash decisions. It may be necessary to make some sacrifices when it comes to your salary, but don't sell yourself short and give yourself credit for what qualifications you have.
3) Job Hunting
You should look at job hunting as your new job once you have been made redundant. It should be on your top list of priorities from the minute you wake up in the morning.
The job market is a fickle place and what is available can change on a daily basis so it is important to be up to speed. You should look online at the job centre and make it known to all of your old contacts that you are seeking work.
4) Network
It may sound obvious, but networking is the key to finding a new job within your chosen area of speciality. There are a vast number of social networking sites on the internet and they all can all help you find a job. You should make sure you contact old work contacts and make as many connections as possible.
You may be unemployed but it doesn't stop you from going out and socialising with your old work colleagues. Meeting up with old colleagues will help you keep your ear to the ground and find out about any new opportunities that may arise.
5) Re-training
If can be a competitive world when looking for a job, so it helps to have as much ammunition as possible, which could mean re-training. It may be a while since you last learnt your trade so there is no harm in taking a refresher course. Brushing up on your skills will not only impress any future employers but will also give you something to do while you look for new work.
If you can't relearn your skills it might be worth learning new ones entirely, such as a language or extra computer skills, as they will always come in useful.
Re-entering the world of employment does not need to be a challenge. You should look at re-entering employment as an exciting opportunity and the chance to improve on your old job.
Employers however will want to see motivation and see that you are fighting fit to be recruited, so by presenting yourself in the best light you will also be presenting yourself in a favourable light to any future employers.
You might also like...
I was made redundant two weeks after my employer went into administration. I have since been offered another job with a different employer, almost one week later. One of my old work colleagues has said that my previous employer has regained the company from the administrators and would be offering my old position back. Would I lose the right to redundancy should I refuse my old position and go to my new employer? I would like to state that all this happened within four weeks. Personally I would like to receive my redundancy and join this new employment! I have been informed that if I refuse to 'go back' I will lose the right to redundancy payment. Is this correct?
lesturai
- 10-Jun-15 @ 9:50 PM