How to Tell People You've Been Made Redundant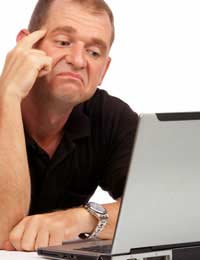 Telling people that you've been made redundant is never going to be top of your To Do list. Unfortunately, statistically speaking, we are all likely to be made redundant 2.7 times in our lifetime, so we'd better get used to it!
With the current global economic downturn, redundancy is becoming more common. This brings with it good and bad points; good, because you're less of an oddity if you get made redundant but bad, because you're more likely to get made redundant in the first place (not to mention finding it harder to find a new job). With unemployment figures getting scarily towards three million, the likelihood of you or someone you know being made redundant during the recession is increasing by the day.
Redundancy Can be Positive
There is a certain way that people talk about redundancy in hushed tones, with the assumption that it is a really, really terrible thing, that makes it hard to talk about it open and honestly. The fact is, being made redundant is not a barrel of laughs, but neither is it the end of the world (to mix clichés) and how you tell your friends will make a huge difference in how they react.
In modern working environments, there are very few 'jobs for life' anymore, with golden handshakes, carriage clocks and a final-salary pension at the end of it. If you do have such a job, hold on to it tight because they are very few and far between. That said, being 'trapped' in a job that doesn't make your heart sing, just because of the 'security', is really rather a sad state of affairs, especially if you end up spending twenty or even thirty years doing something you don't like.
So, assuming you have just been made redundant, probably against the backdrop of the credit crunch, what do you say to your friends? The fact is you probably are not the only person you know going through this, but this really doesn't make much of a difference. It's like saying someone else has got toothache – it doesn't make you feel any better.
How Do You Feel?
Be aware that how you tell your friends will make a difference. This can be a help or a hindrance, so it's best to decide what type of reaction you want before you say anything.
If you are feeling totally wretched and you want all your friends and family to pull together and support you, then what you would say and how you would say it is totally different to if you are actually a bit pleased, as you can now spend some time finding a job you really love, or setting up your own business (this is especially likely if you have had a juicy redundancy payment and are not in dire straits trying to work out how to pay the bills.) Similarly, if you are feeling totally desperate, but don't want anyone to know and want to have some time on your own working out your next step, don't go wailing to your pals.
Once you have had a chance to absorb the fact that you have been made redundant, give yourself time to think about how you feel and what you want to do next. Understanding how you feel about the situation will actually give you more advice about what to say to your friends and family than being told what to say.
You might also like...
Good morning I was made redundant a month ago after working nearly four years at an accountancy firm. I was an Artworker, going through a training process with Adobe Suite. This was totally unexpected. I worked in London but had a great working relationship with the Manchester team. Fantastic feedback and they were always asking for my time to help with projects. Unfortunately due to the legal document I signed I was unable to get in touch with them to say goodbye. I am currently trying to find work but have a very small network. I am using LinkedIn but by updating my profile, my score has gone down. I am trying to be positive but the doubt does creep in.
cherylthommo
- 21-Apr-17 @ 11:00 AM