Do Women Lose Out More on Redundancy?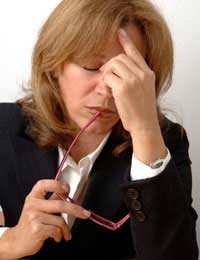 In an age of equality it is hard to believe that one gender could be hit harder than another when it comes to redundancy.
It may be against the law for an employer to discriminate against women when selecting candidates for redundancy, but in reality women are losing out compared to men.
Why Are Women Hit Harder
Research shows that in previous recessions a lot of the redundancies have been focused on male dominated sectors such as construction and manufacturing.
But recent downturns have also hit female dominated sectors such as retail, hospitality and administration.It is no longer the case that the man is the sole breadwinner in a family and 90% of single parent families are headed up by women, which means there is more responsibility on the female and it is a bigger blow if she loses her job.
Figures from the Trade Union Congress show the latest economic downturn led to an increase in the female redundancy rate of 2.3%, almost double the 1.2% rate for men.
Different Regions
The latest recession seems to have created somewhat of a north south divide, with more female workers than men in the North being hit with redundancy.
This again comes down to the type of industries that are affected by redundancy. The latest recession has hit some smaller businesses worse than larger ones. Research shows women tend to play a more predominant part in smaller firms.
Many more women also work in part-time work employment compared to men and within the public sector, two areas that have been affected by redundancies of late.
Practicalities of Redundancy for Women
Research by TUC in the UK, shows women are more likely than men to be in low-paid work and are less likely than men to have savings and therefore face a greater risk of immediate poverty as they become unemployed.
Women could also face particular barriers to finding new work. Women with children and childcare responsibilities may have worked part-time or on a flexible basis. Finding this type of work is harder to find as it is in higher demand, so it will put restrictions on many women's job searches.
It is against the law to discriminate against a woman because she is pregnant or married, but there are a number of cases where employers do.
A lot has been done for women in the workplace, but this has also acted as a hindrance for some female workers.Many employers will see maternity pay, parental leave and childcare benefits as expensive and an extra burden to their business so they will avoid recruiting women with children, even though this is wrong.
Female employees can take action if they believe they have been unfairly dismissed but many employers again see this as an added cost of recruiting females and many fear action could be taken.
What is Being Done
The UK government is concerned about the rate at which women are losing their jobs in the downturn compared to men and is working with employers to make sure that women are not discriminate against when it comes to redundancies.
It is concerned that employers are targeting women on maternity leave and those who work part-time, rather than their male counterparts who work on a full-time basis.
The government fears some are being laid off because bosses are seeking to avoid costs associated with the introduction of longer maternity leave and flexible working rights.
It plans to take action and launch an inquiry into sex discrimination at work, offering training for women to help them compete for jobs and it plans to monitor companies to check they are not unfairly targeting women.
Many employers discriminate against women without even realising, but ignorance is not an excuse and employers should be knowledgeable about employment law and when something is unlawful.
If you feel you are being discriminated against you should speak with your employer immediately and if necessary take action.
You might also like...
@Itzy - Unless redundancy has been mooted within your company and/or voluntary redundancy applications have been offered, it is probably not a good idea to suggest redundancy regardless of whether you think you are marking time. I'd wait until your employer suggests it first, especially if you think it might be in the air.
Jo67
- 18-Aug-16 @ 10:40 AM
My job no longer exists.I am a secretary/pa and due to reduced levels of business and technology the services I was employed to provide have reduced dramatically.It feels like I am marking time and wondered if I should ask to be made redundant and have the security of a small nest egg whilst I seek new employment?I am 56 so am also concerned about securing a new job. Can you advise?
Itzy
- 17-Aug-16 @ 11:31 AM
Hi and thanks is advance, it's two parts! We're part of a multi-national organisation, that's parented by an even larger multi-national organisation. All of our small team was put on consultation a couple of weeks ago, justification - ' lack of business'. Part 1 At individual meetings it became clear that the senior managers knew little of what we did or our business opportunities and in fact stated that this was the opportunity to find out. With that in mind they have tasked our manager (one of the ones at risk) with producing figures after figures to try to justify our positions. Every time we achieve one of these tasks (in our favour I might add) another is requested. Firstly is this fair, shouldn't their reason be justified prior to putting us on consultation? Even if they delve into annual figures, there are justifications which have either been previously forecasted (with no query) or highlighted to senior managers (with apparent full support). One of our issues was even caused by their decision to move individuals out of the team a month before this, it was heavily challenged at the time as it made no business sense other than to expose the team. Furthermore we are no worse than some of the other teams. Secondly can they make us justify our own positions in this way? I appreciate it's a consultation but surely the onerous should not solely be on us? Part 2 We were assured that redeployment opportunities within the larger business would be offered, and by registering with their system as 'at risk' we would be given priority status. However we have since learnt that a very suitable position has become available and has been offered externally, without it even being registered internally never mind flagged to us, is this legal?
Annon
- 20-Apr-15 @ 9:31 PM
@Moo moo You been there 12 years and that's all you are getting, that seems out of order. Give ACAS a call they are very helpful in matters like these. I hope you get your full pay as that seems highly unfair.
You been there 12 years and that's all you are getting, that seems out of order. Give ACAS a call they are very helpful in matters like these. I hope you get your full pay as that seems highly unfair.
Hi, I am a 34 year female press photographer, was told 2 weeks ago I'm being made redundant and am currently going through the consultation period. I have worked for the company full time for 12 years, I took 9 months maternity leave last year and just returned 5months ago from my maternity leave part time. My whole redundancy package has been calculated on my part time wage. So I am receiving 2weeks pay (part time) for my time with the company. How can this be fair? I feel I'm being discriminated against for having a baby and I'm losing out. Can you please advise if there is anything I could possibly do or say to get what I feel I'm entitled to. Thank you. Corrina.
Moo moo
- 26-Nov-14 @ 6:37 AM